Style Me Pretty Feature – Greek Elopement Inspiration
Elopements have long had a reputation for defying tradition—or, thought of as sudden and secretive. But my friends, they can be SO much more than that. With ancient Greek Orthodox wedding traditions in mind, this beautiful story of a private union is one that I hope will portray how truly meaningful an elopement can really be.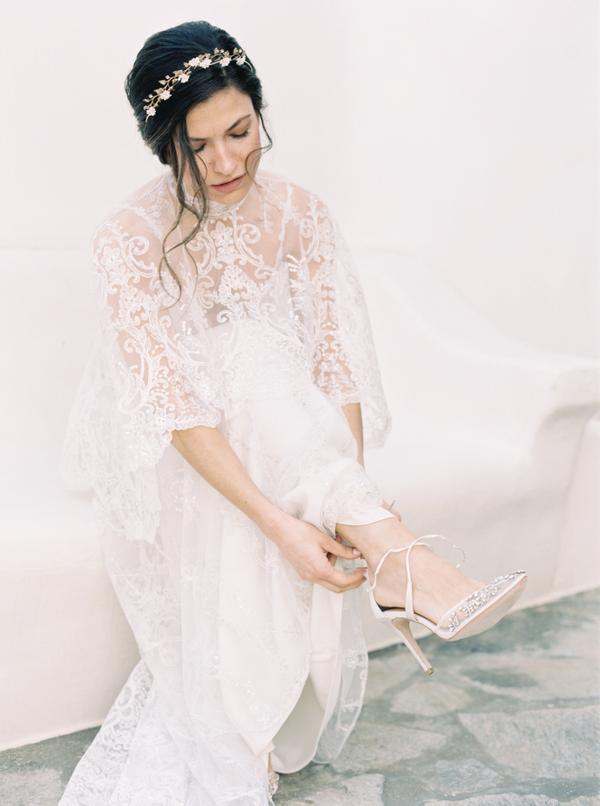 From Tracy Burch… We designed Sophia and Nikolas' Mykonos elopement to look and feel true to ancient Greek Orthodox wedding traditions while being effortless, timeless and elegant. Her lace Claire Pettibone gown with cape, all About Romance tiara, and foraged nosegay along with Nikolas's modern Zara suit and black Greek leather sandals created an elegant and modern pairing.
The elopement took place in a classic Mykonian white stone church with red door dating back to the late 1700's. This small chapel, dedicated to the Virgin Mary, was family owned with deceased relatives buried beneath it. Upon entering the chapel you see the icons and wooden/stone architecture and smell the burning incense and beeswax candles – a feast for the senses.
Find the whole story featured on Style Me Pretty
Creatives:
Photography Tracy Burch
Event Planning Jaclyn Journey
Design Jaclyn Journey
Floral Design Jaclyn Journey
Wedding Dress Claire Pettibone
Accessories All About Romance
Calligraphy Rachel Fisher Calligraphy
Paper High Fancy Paper
Film Processing Photo Vision