Romantic Bridal Boudoir Featured on Hochzeitsguide
It is always so thrilling to have your work published on a wedding blog amongst your favorite designers but its ever so much more thrilling to be featured on the German wedding blog Hochzeitsguide!
For this romantic bridal boudoir photoshoot we were able to provide the "Abella" french lace wedding veil, the "Totti" bridal comb with a matching "Totti" wedding garter to complete the set. This series was coordinated by Sharon Webb Events and captured on film everso beautifully by Esther Funk Photography.
Romantic Bridal Boudoir
Flickering candles, lush leafage and nothing but sheer fabrics – these are the ingredients for a romantic bridal boudoir.
Bright white as far as the eye can see sprinkled with subtle golden accents. Is it all just a dream and she´s in heaven? Or is it true and her wedding day is finally here?
Graceful like a blonde angel the bride savors the morning, indulges in fragrant flowers, enjoys the comfort of delicate lace on her skin and falls in love with sincere words written by her groom…
This letter is a gift for her that cheers her heart – beautifully calligraphed by Jennifer Bianca Calligraphy. Also her gift for him will make his heart skip a beat. "This timeless bridal boudoir is not only a gift to the husband-to-be, but a gift to the bride herself." the creative team told us.
Stylist Sharon Webb Events focused on special stationery and perfect harmony. So we find golden details in the form of jewelry but also on the bride´s feet, hair and hands. "Our vision was to capture the essence of elegance, sophistication and beauty of our bride, including all the fine details our creative team infused into this shoot." they explain.
Deer Dutch rounded out the overall picture with breathtaking flower arrangements that mirror the bride´s perfect easiness and timeless elegance.
Let us start sensually into this day and get lost in the pictures shot by Esther Funk Photography.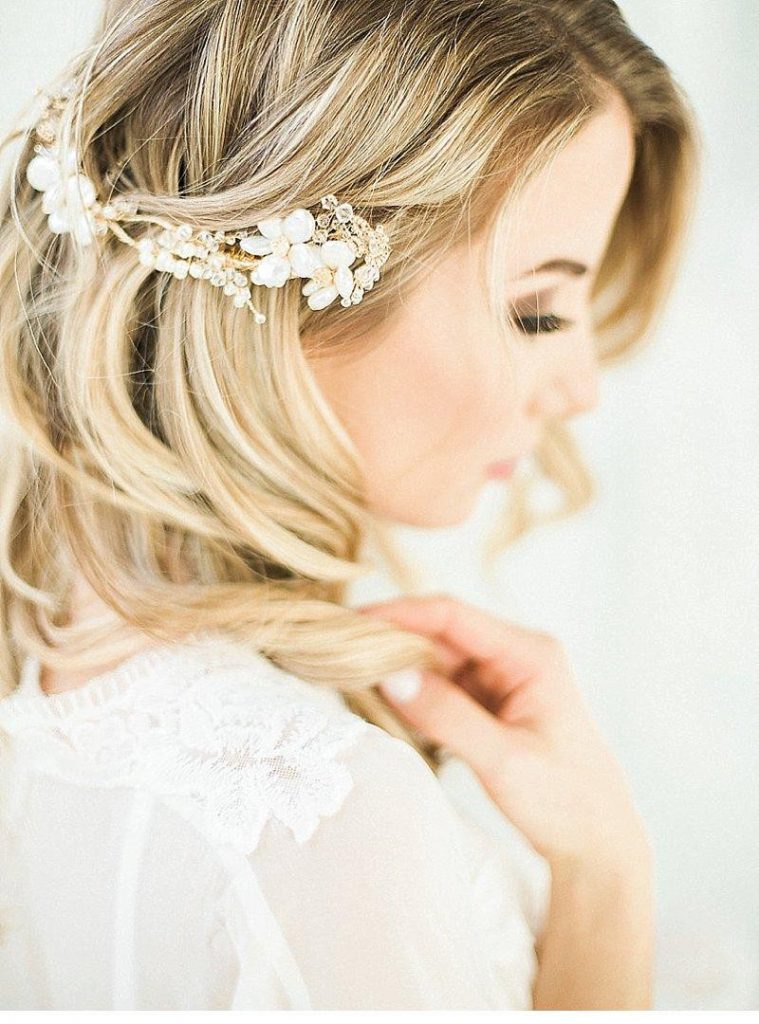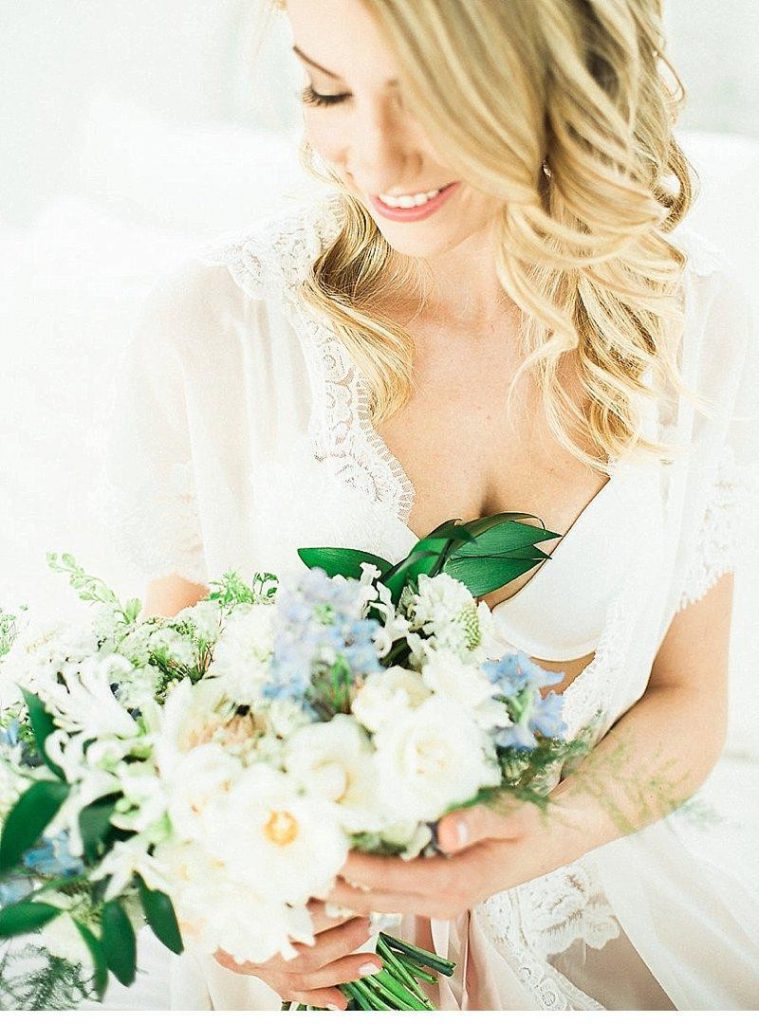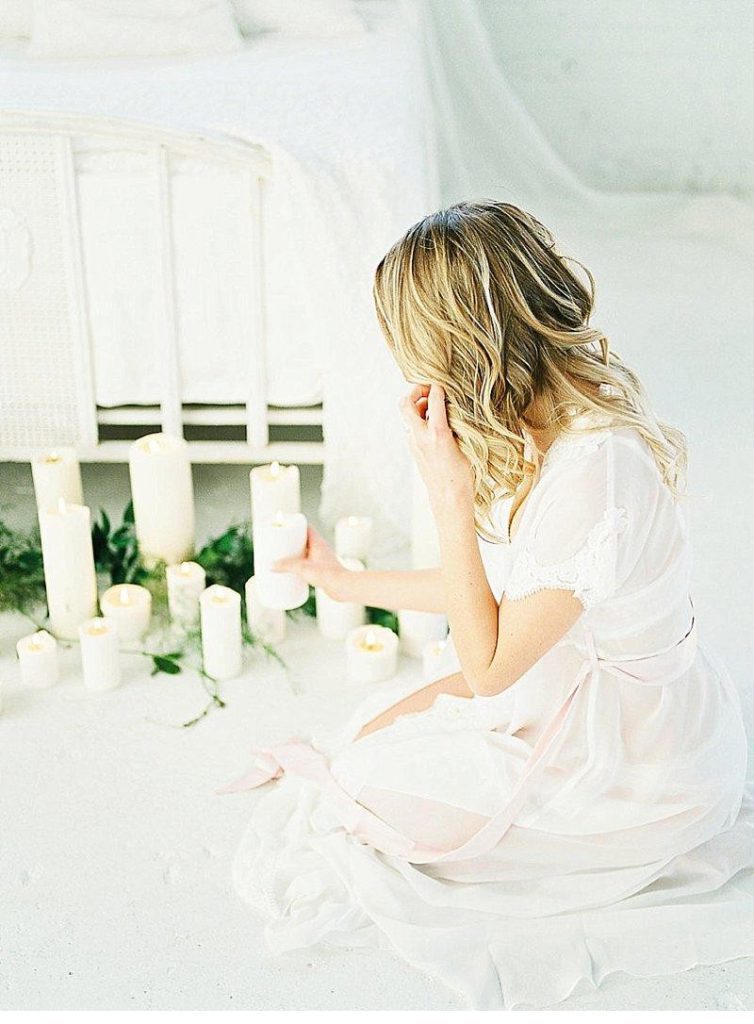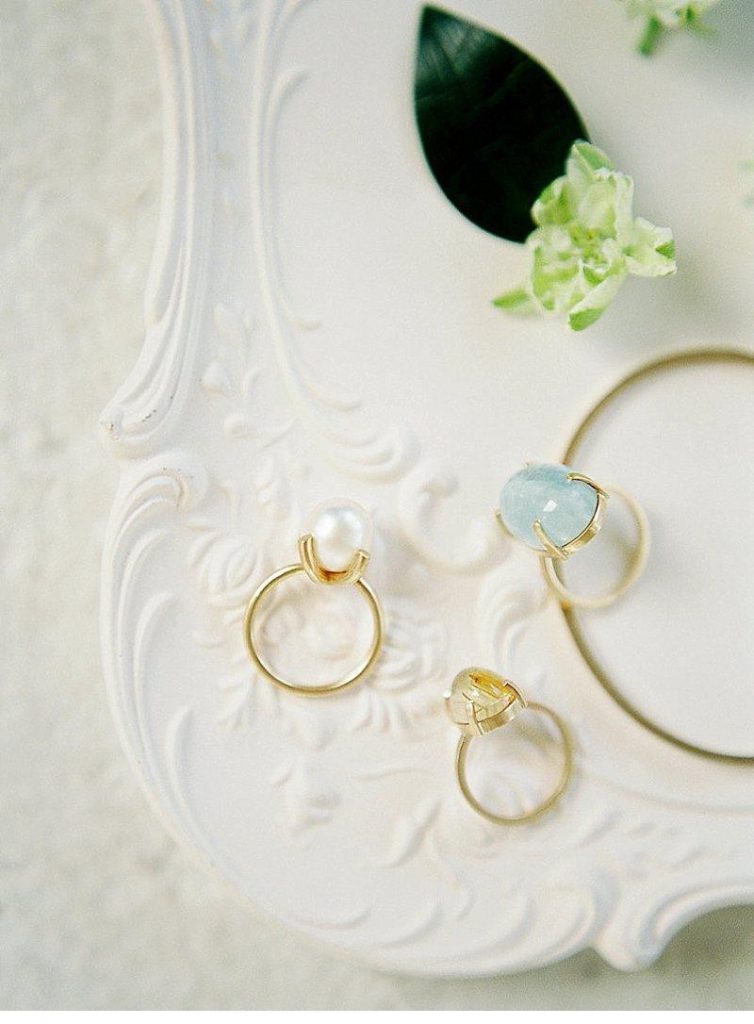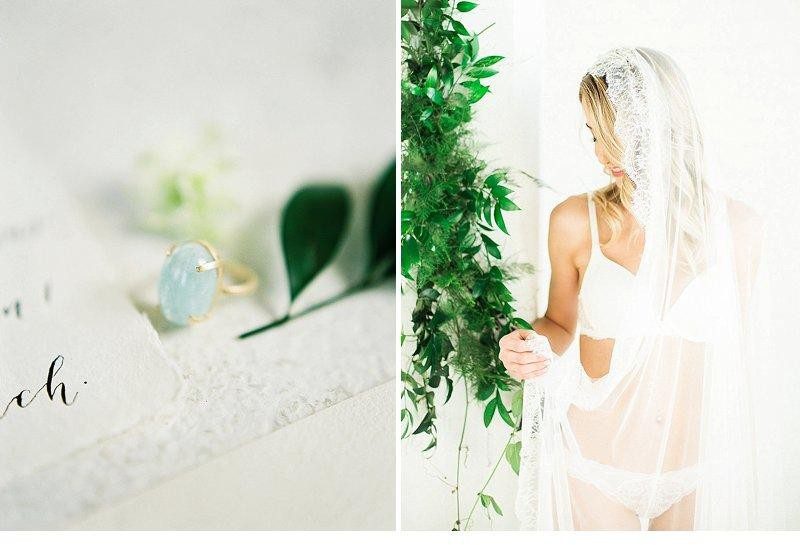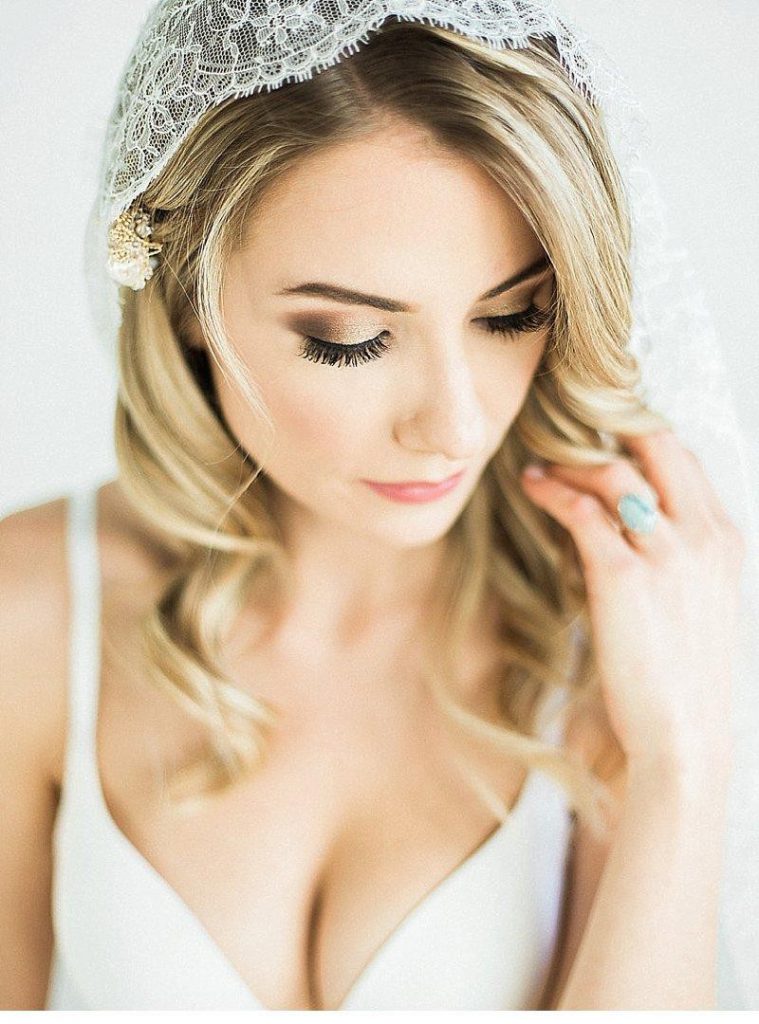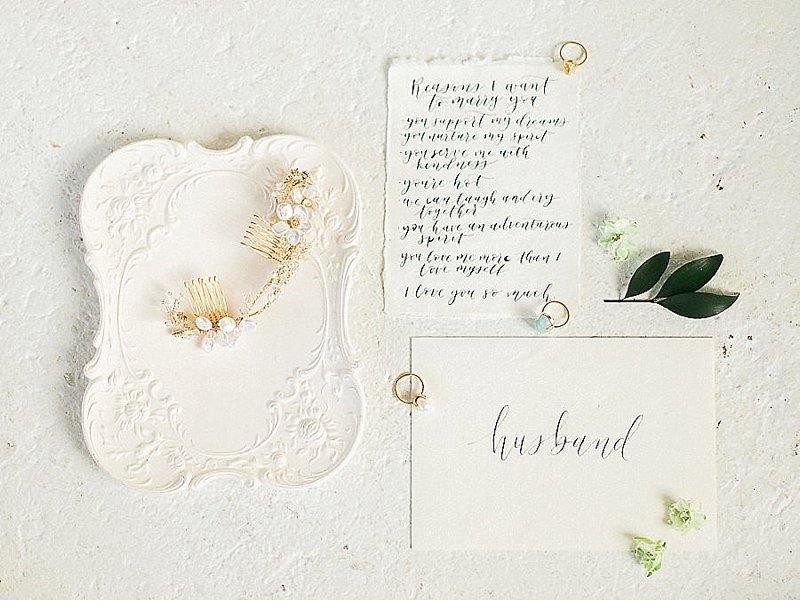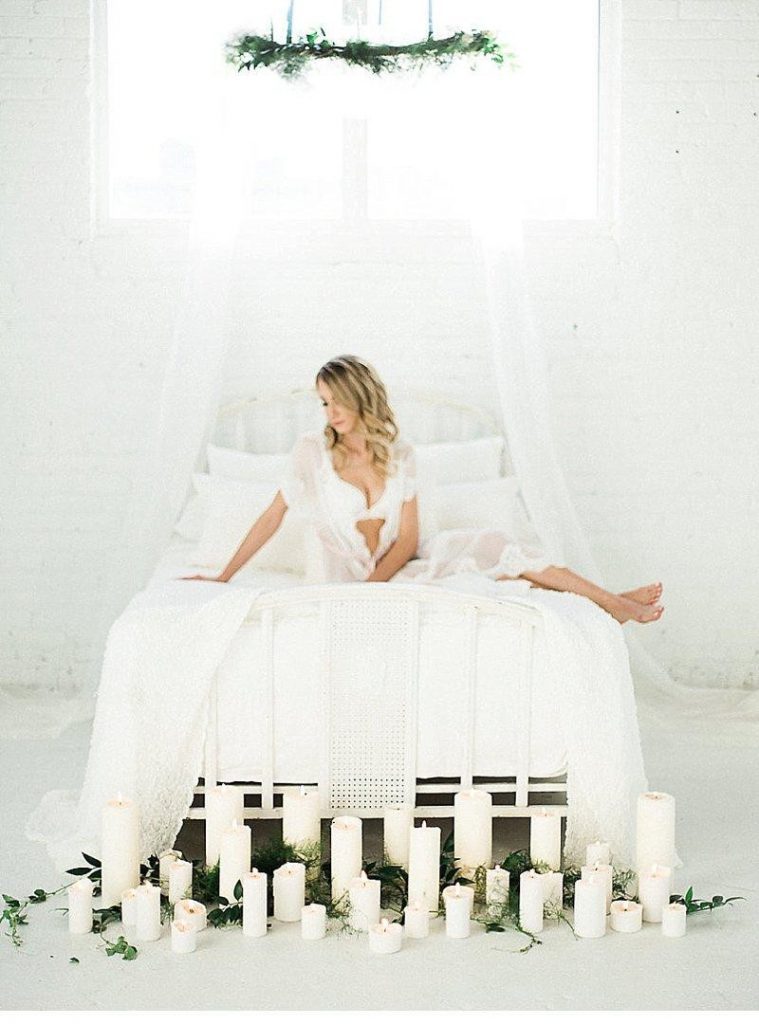 PHOTOGRAPHY: Esther Funk Photography VENUE: Aspire Studios STYLING & PLANNING: Sharon Webb Events FLORAL DESIGNER: Deer Dutch CALLIGRAPHY: Jennifer Bianca Calligraphy ROBE: BHLDN HAIRPIECE, VEIL & GARTER: All About Romance RING & BRACLET: Hilary Druxman Jewelry SHOES: Bella Belle Shoes MAKE-UP: Makeup by Jodie B HAIR: Andy Kreller MACARONS: Jenna Rae Cakes MODEL: Tiffany Jean